Introduction to Dental Suturing & Soft Tissue Management
Dr Michael Danesh-Meyer BDS, MDS
Volume 1.0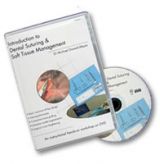 The Dental Education Continuum is pleased to present the first instructional DVD teaching the basics of soft tissue surgery in dentistry. This unique DVD workshop is designed to be used as a step-by-step instructional program, where participants actually practice the procedures demonstrated for themselves on a pig jaw model. This DVD has been developed for general dental practioners with and interest in dental implant, periodontal and oral surgery as well as pre-doctoral and post-graduates students studying in these specialty areas of dentistry.
Presenter
Dr. Michael Danesh-Meyer; Periodontist, specialising in implant dentistry and hard and soft tissue reconstruction; Director of the Institute of Dental Implants & Periodontics, Auckland, New Zealand; Director of Dental Education Continuum and Auckland Clinical Training Centre; Formerly Assistant Clinical Professor in Periodontics, Temple University, Philadelphia; published, lectured and taught hands on courses internationally in implant dentistry and periodontics.
Content:
1. Basic Incisions & Flap Design:
Full thickness crestal incision, vertical releasing incision, raising full thickness flap, periosteal releasing incision, recommended surgical instrumentation and materials.
2. Site Preservation/ Socket Grafting Technique:
Step-by-step instruction on grafting extraction sockets for preservation of the alveolar ridge or prior to dental implant placement.
3. Soft Tissue Closure:
Instruction on flap mobilisation, periosteal releasing incisions, primary soft tissue closure using horizontal mattress sutures, simple interrupted sutures and continuous locking suture.
4. Connective Tissue Graft Harvest:
Palatal incisions, flap reflection, dissection and harvest of graft, closure of the donor site and the use of connective tissue graft to achieve primary closure over extraction site.
5. Functional Crownlengthening Surgery:
Provides explanation of apically repositioned flap, incisions, manipulation of flap, osseous resection, suturing and placement of periodontal dressing.
Language
English
Running Time
Approximately 1 hour 15 minutes
Format
This DVD is published in English. Region Free and PAL format and is playable in either TV DVD player or computer DVD player.
CE Credits:
Continuing education credits are available through the New Zealand Dental Association (NZDA) for this DVD.