FLS-07 DVD Faculty Lecture Series: Treatment Planning and Prosthetic Procedures for Single Implant Crowns
Dr. Sam Strong
Volume No. 07 - Treatment Planning and Prosthetic Procedu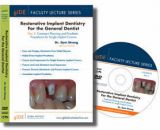 The gIDE Faculty Lecture Series features specially selected titles from lectures presented by our world-renowned gIDE faculty. This series is produced in the DVD format for your ongoing learning experience and your permanent digital collection. The viewer can study from presentations on the most current topics with up to date clinical procedures and research data.
Running Time
90 minutes
Languages
This DVD is published in English. Region Free and NTSC format and is playable in any TV DVD player or computer DVD player.
Content:
The single posterior implant crown can be the most productive, profitable, and complaint-free procedure in dentistry. Methods for surgical template construction, implant placement, and streamlined prosthetics are explained in this program. Application and advantages of the Nobel Easy Abutment and Snappy Abutment are shown in step by step protocol as well as the rationale for a fixture level impression to employ pre-machined titanium or Procera ceramic abutments.
Learning Objectives
Following completion of the curriculum, participants will have the knowledge to:
Analyze implant cases with organized methods
Effectively do case presentation
Do comprehensive treatment planning
Master easy to use prosthetic procedures