LCS-02 - DVD Live Clinical Series: Advanced Implant Therapy
Dr. Sascha A. Jovanovic
Volume Vol. 2, 2nd edition: RIDGE AUGMENTATION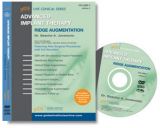 This DVD features 4 clinical patient cases with a total of 9 procedures performed over the course of the patients treatment. All are presented with the highest quality digital video, close-up, edited and fully narrated throughout. Total length of DVD approximately 110 minutes.
Horizontal Bone Augmentation, Vertical Bone Augmentation, Chin Bone Harvest, Distraction Osteogenesis, Implant Placement in Grafted Bone, GBR with simultaneous Implant Placement, Membrane Removal and Mucogingival Surgery
Educational Objectives
Identify the various techniques for ridge augmentation, the indications and contraindications
Demonstrate step-by-step surgical procedure of distraction osteogenesis for hard and soft tissue augmentation
Plan and perform different ridge augmentation procedures including incision design, flap elevation, bone graft choice, membrane placement and suturing techniques
Demonstrate the rationale, technique and complications of common intra-oral bone harvesting procedures
Languages
This DVD is published in English with Japanese, French, Italian, Spanish and Russian translation. Region Free and NTSC format and is playable in any TV DVD player or computer DVD player.