LCS-01 DVD Live Clinical Series: Advanced Implant Therapy
Dr. Sascha A. Jovanovic
Volume Vol. 1; 3rd Edition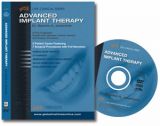 The Live Clinical DVD series presents advanced clinical procedures performed LIVE by world-class clinicians on actual patients with full narration. This DVD Volume I is focused on current topics in Implant Dentistry and is updated, including more final long-term prosthetic results. It has 7 surgical procedures, introductory, reentry and follow-up footage and is published in 5 languages. 75 minutes total running time.
Quotes
"....a fantastic tool for details of surgical techniques...."
"....well made and has all the latest material included...."
"....clear, simple presentation with sophisticated procedures...."

Content:

This DVD is Volume I in the Advanced Implant Therapy series and is focused on several current topics in Implant Dentistry. It features 5 clinical patient cases highlighting 7 procedures with diagnosis, treatment planning and surgical solution. All are presented with the highest quality digital video, close-up, edited and fully narrated throughout.
Immediate Tooth Replacement and Restorative Follow-Up Treatment; Palatal Connective Tissue Harvest and Soft Tissue Augmentation; Ramus Bone Harvest with Trephine technique and important Anatomical Landmarks; Block Bone Grafting in Posterior Mandible and subsequent 3 Implant Placements; Scalloped Implant placement with simultaneous GBR procedure, Oral Plastic Surgery and Restorative Follow-Up Treatment.
Languages
This DVD is published in 5 languages (English, French, German, Russian and Japanese). Region Free and NTSC format and is playable in any TV DVD player or computer DVD player.