LCS-03 DVD Live Clinical Series: Advanced Implant Therapy
Prof. Massimo Simion
Volume Vol. 3: VERTICAL RIDGE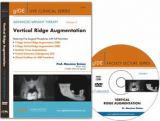 The gIDE Live Clinical DVD Series presents advanced clinical procedures perfomed Live by master clinicians on actual patients with full narration by the author. This all new Volume III DVD in the series demonstrates advanced implant procedures focusing on the topic of VERTICAL RIDGE AUGMENTATION performed LIVE by Prof. Massimo Simion with full narration, step-for-step treatments and demonstration of results. Learn from the experience of one of the experts in the field of bone regeneration. 83 minutes total running time. Published in English language with Japanese and Italian translation.
Content:

Vertical Ridge Augmentation
In this DVD 4 cases of vertical ridge augmentation will be presented demonstarating a total of 9 procedures related to Guided Bone Regeneration, bone grafting with autografts and xenografts and implant placement in esthetic areas. The different surgical techniques will be described in details following all the steps from the incision to the suture.
Languages
This DVD is published in English with Japanese and Italian translations
Running Time
83 minutes
Region Free and NTSC format and is playable in any TV DVD player or computer DVD player.